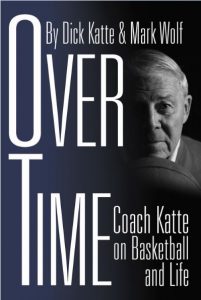 If you are in Littleton, Colorado this Saturday, September 19th stop in the Costco located at, Southwest Denver 7900 W Quincy Ave., Littleton, CO 80123-1350 and meet Denver Christian's beloved and famed basketball coach Dick Katte along with co-author of the book Over Time: Coach Katte on Basketball and Life, Mark Wolf. They will be there from 1:00 – 3:00 pm and would love to talk with you. You can get a copy of your book signed by them too. Enjoy the following article by Mark Wolf as he tells you how he came to put this amazing story together…
I'm pretty sure I had a mouthful of English muffin when I came up with the idea to write a book about Dick Katte.
I was eating breakfast and reading The Denver Post on a February morning in 2012 when I saw a story that Dick was going to retire at the end of the season as the state's winningest basketball coach. I sketched an outline of the project, attended Denver Christian's next game and handed him a copy. He was initially underwhelmed at the notion, but finally agreed to let me hang around during the final week of his career, when his team capped an undefeated season with a thrilling victory in the state championship game.
That led to long interview sessions on his patio and around his kitchen table during which we talked about, among other things, basketball, life, his faith and the aneurysm that nearly killed him. I spent a day in his hometown of Sheboygan, Wisc., interviewed many of his players, friends and fellow coaches, reporters who covered him and his teams and pored over hundreds of newspaper stories involving Denver Christian, many in the pages of season-by-season scrapbooks assembled by Dick's wife – and most important assistant coach – Lorraine.
The book was conceived as a third-person biography of Dick but one afternoon during a long writing session at the Columbine library, I was transcribing some notes and decided that, except for the first reported chapter on that final week, the book had to be in first person. At that moment, the manuscript came alive. Telling the story in Dick's voice gave the book a sense of authenticity that would have been impossible to capture in third-person.
After spending a year working with Dick I came to understand what it must have been like to play for him. His players told me about his insistence on detail and I became accustomed to getting printouts of chapters heavily edited by Dick in pencil. I learned a lot about basketball in the course of writing this book, but I learned even more about the importance of living an honorable life.
Mark Wolf is co-author with Dick Katte of "
Over Time: Coach Katte on Basketball and Life." He is a longtime journalist and is now a public policy editor at the National Conference of State Legislatures.