This Day in Yankee History: Oct. 1, 1949 Joe DiMaggio
But [Joe DiMaggio] proved his ability immediately with the Yankees, winning the American League pennant and the World Series in 1949 and winning both crowns again in 1950 and 1951. Having talent on the roster did make a difference. DiMaggio might have been as big a celebrity as there was in the big town, but now Stengel had a resume that screamed loudly. Stengel was never going to win a popularity contest with DiMaggio in New York if he felt he had to bench him and DiMaggio squawked, but it didn't come to that.
DiMaggio had so many physical ailments, bone spurs on both heels and bone chips in his elbow, it probably did not surprise anyone when in mid-September of the 1949 season when he came down with a mild case of pneumonia and missed another chunk of time. He was apparently worn out.
On October 1, the last day of the 1949 season, the star was honored with a Joe DiMaggio Appreciation Day at Yankee Stadium. Team officials were probably wondering how long DiMaggio would continue to play and just in case his setbacks led to him making a decision to retire in the off-season they wished to honor him while he was still in uniform. The fans wanted to be there, too, and 69,551 turned out.
In a speech to the fans, DiMaggio said that when he was a rookie headed to the Big Apple, Lefty O'Doul, who was managing the San Francisco Seals and had once hit as high as .398 in the majors, took the young DiMaggio aside to offer advice. DiMaggio said O'Doul told him not to be scared of New York City because it was really the friendliest of towns.
"This day proves it," DiMaggio said. He thanked Stengel, friends and teammates, whom he called "the fightingest bunch that ever lived."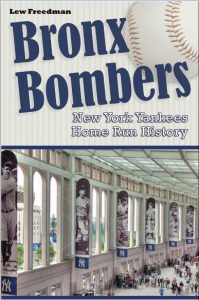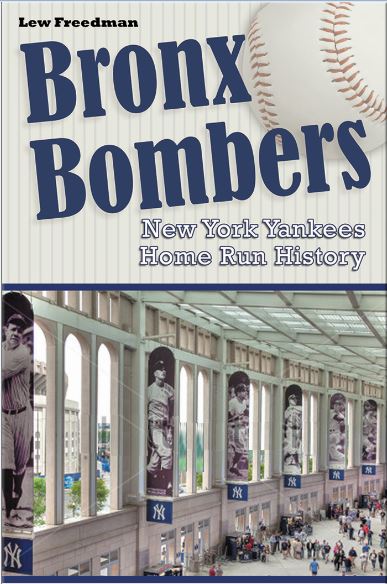 Excerpted from Bronx Bombers: Yankee Home Run History by Lew Freedman published by Blue River Press and distributed by Cardinal Publishers Group. For more of Yankee home run history, pick up your copy of Bronx Bomber today.
Be sure to like us on Facebook, Blue River Press and follow us on Twitter @BlueRiverPress