What's a party without cocktails? With the Derby it's all about bourbon cocktails too. So here are a few suggestions on how to make a bourbon cocktail:
Bourbon Sour
Get a can of frozen concentrated lemonade, and put that in the container. Then fill that same can with water, and add it to the container. Then fill that same can with pulp free orange juice and add that to the mix. Finally, fill the lemonade can with bourbon. Repeat all the steps as needed to fill up the container (or pitcher), and then all that's left to do is fill glasses with ice, pour and serve.
Bourbon Lettuce and Tomato Cocktail
It's just a Bloody Mary using bourbon instead of vodka. You see vodka only adds alcohol to a Bloody Mary, but bourbon brings alcohol AND flavor to this classic drink. I use Evan Williams Black Label 86 proof bourbon in mine. The five years of aging and 86 proof bring some good barrel notes to complement and enhance the Bloody Mary's ingredients. If you want to get cute, garnish it with a baked slice of thick bacon!
Dawn at The Downs Cocktail
This is your elegant morning option. In a champagne flute pour one ounce of bourbon (I like Elijah Craig 12 for a little more spice or Evan Williams Single Barrel for a little more vanilla flavor), and then fill the rest of the glass with Martinelli's Sparkling Apple Cider. You can garnish with an apple slice to give it a little extra "oomph."
And for the main attraction, The Mint Julep, check out Bourbon Whiskey: Our Native Spirit 3rd edition!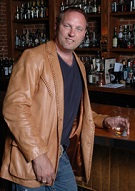 Bernie Lubbers, known as "The Whiskey Professor," is the Global Whiskey Ambassador for the family owned and operated Heaven Hill, in Bardstown and Louisville, Kentucky. Heaven Hill is the largest American owned bourbon company and holds 25% of the world's aging bourbon. Bernie won Whisky Magazine's  "Whiskey Ambassador of the Year" in 2009 and 2012 for the U.S. and the 2009 "Whiskey Ambassador of the Year International."