With the 100th running of the Indianapolis 500 right around the corner, we wanted to present to you another excerpt from Lew Freedman's book The Indianapolis 500: A Century of High Speed Racing. Enjoy the following on the Borg-Warner Trophy.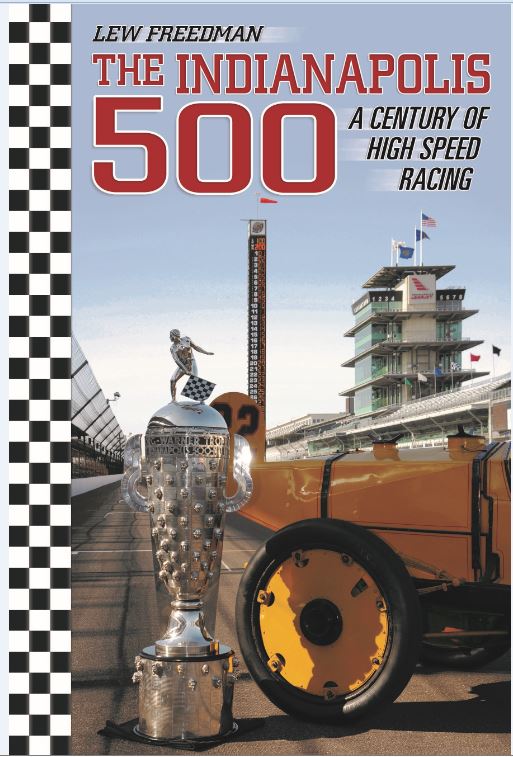 The perpetual Borg-Warner Trophy is won by the champion of the Indianapolis 500 each year. Introduced at a pre-race banquet by Indianapolis Motor Speedway owner Eddie Rickenbacker for the 1936 race, it is one of the most esteemed trophies in sports. The sterling silver trophy has been measured at five-feet, four inches tall. However, after being placed on a solid base it towers over the men who covet it… Originally weighed at eighty pounds, the trophy has added poundage over the years. The current weight is listed at 150 pounds. While it may have once been a one-man job to lift the trophy it has become a two-person effort. Impressive even at a distance, the cup-like trophy topped by an official waving a checkered flag, the prize is not something easily picked up and moved, but it has made it to the winner's circle in victory lane every year since 1936. However, the trophy does not ever go far from there, its public appearances pretty much limited to activities at the track. Housed in the Hall of Fame Museum on the Speedway grounds, the Borg-Warner Trophy is not presented directly to the owner and driver of the winning vehicle… They are given much smaller replicas. That practice has been followed since 1988.
The name of the trophy originated with and was paid for by the Borg-Warner Automotive Company (an automobile supply firm) at a cost of $10,000. The trophy is valued at more than $1.3 million now. Annually, following each race, the year, the name of the winner and the average speed in completing the five hundred mile course, are engraved onto the big trophy. In a distinctive touch, the face of the winning driver is etched into the silver and is raised perhaps a half-inch in bas-relief from the surface.
About the Author:
Lew Freedman is author of over 75 books including JUMP SHOT: Kenny Sailors, Basketball Innovator and Alaskan Outfitter.