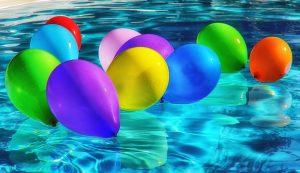 It may be still a few weeks before she turns 100 years old, but that hasn't stopped Betty White from trending. Her fans have known for a long time how special, funny, and endearing she is, and we are looking forward to celebrating her 100th birthday.
Betty has a long and rich career. Back in 1949 she got her feet wet in television, worked through the years entertaining us even up to 2019 when she was the voice of Mrs. Sarah Vanderwhoozie for the movie, Trouble, and she had a cameo in Toy Story 4 as Bitey White.
She has always been an animal lover. In fact, she stays in showbiz to support her animalbiz. Her passion is animal health and welfare and funds humane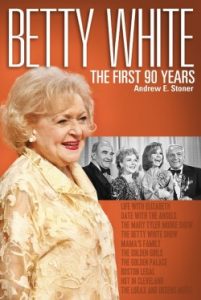 studies into specific health problems with dogs, cats, and zoo wildlife. For her 90th birthday, her Hot for Cleveland co-stars adopted an elephant that had been orphaned in Africa by ivory hunters.
We've only just taken a tiny peek at her life. To really brush up on all things Betty White, you need to get the book, Betty White, and test your knowledge in addition to adding to what you already know about this fascinating icon.
Look for the new release Betty White: The First 100 Years coming out on her 100th birthday, January 17, 2022.
About the Author of Betty White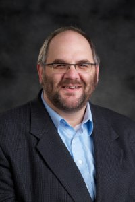 Andrew E. Stoner is the author of five books including the political biography Legacy of a Governor: The Life of Indiana's Frank O'Bannon, true-crime and popular culture including Those 70's Shows.  A journalist by training, his writing has been published in the South Bend Tribune, the Goshen News, the Indianapolis Star, the Indianapolis Recorder, Sports Illustrated and Colliers Worldbook Encyclopedia. He holds a bachelor's degree in journalism from Franklin College of Indiana and a master's degree in journalism from Ball State University. He has completed his Ph.D. in Journalism at Colorado State University, Fort Collins, Colorado.
To see more Blue River Press books, have a look at our shop. If you have any questions, you can contact us here or give us a call at 317-352-8200.
Blue River Press books are distributed by Cardinal Publishers Group, 2402 N. Shadeland Avenue, Suite A, Indianapolis, Indiana 46219.
Happy Reading ~ Ginger Bock
Creative Minds
A Regular Column by Anthony D. Fredericks
Thinking You Are Creative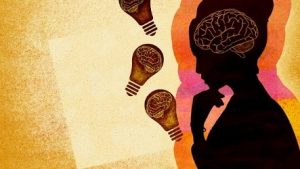 One of the most prevalent psychological misconceptions, or societal myths, is that we are either born creative or not.  That is, there are two kinds of people in the world:  the creative ones and those who couldn't come up with a creative idea if their life depended on it. Because of our own frustrations in generating creative thoughts, we often group people into the creative "haves" and the creative "have-nots."
We often look at creative types as "different."  They do things we cannot, they think things we don't, and they envision possibilities we could never conceive.  The Leonardo da Vincis, Pablo Picassos, and Jane Austins of the world were gifted with a set of genes we did not get.  Because we don't have those creative genes we'll never rise to their level; as a result, we satisfy our egos by stating that, "I'm just not creative" when faced with work-related challenges or personal hurdles.
This conclusion is supported by a study involving the creative productivity of engineers at a major oil company.  Executives of the company were concerned about the lack of creative output on the part of their employees.  They brought in a team of psychologists to see if they could determine any significant differences between those deemed to be creative and those categorized as "non-creative."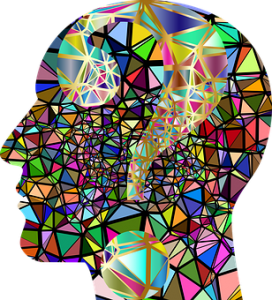 The team of psychologists asked a battery of questions focused on childhood experiences, family influences, academic performance, geographical preferences, and even favorite colors.  After a thorough analysis of the data, they concluded that a single factor clearly separated the two groups:
The creative people thought they were creative; and the less creative people didn't think they were.
These results suggest that when we believe ourselves to be "non-creative," we seldom put ourselves into situations that allow us to engage in creative endeavors or creative thinking.  If we believe that we have low "creativity quotients," then we often don't allow ourselves to engage in imaginative activities, take creative risks, play with possibilities, or look for alternate answers. 
Interestingly, though, all of us are creative souls early in our lives and it is our upbringing, schooling and work environment that often determine the degree or comfort we have with creative thinking.  The bottom line: creativity is never a matter of "I have it," or "I don't have it." It is, most often, the result of hidden forces firmly entrenched in our growth and development.
"Creativity requires the courage to let go of certainties."
– Erich Fromm
 __________________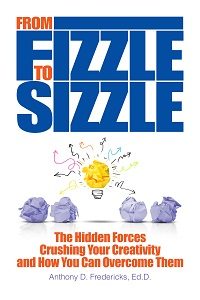 Dr. Anthony D. Fredericks is an award-winning author of more than 170 books, including the highly anticipated From Fizzle to Sizzle: The Hidden Forces Crushing Your Creativity and How You Can Overcome Them (January 2, 2022) as well as five other Blue River Press titles (e.g. Ace Your Teacher Resume).  He also pens a regular blog ("Creative Insights") for Psychology Today.com (https://www.psychologytoday.com/us/contributors/anthony-d-fredericks-edd)