The following is an excerpt from Healing Trauma with Yoga: Go from Surviving to Thriving with Mind-body Techniques by Beth Shaw.
Calming Foods
There are certain foods that calm your nervous system. I find I naturally crave these foods, especially at night. Please note that they are all healthy and relaxing to the system. These are my favorites: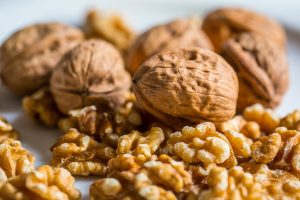 Turkey—contains tryptophan, an amino acid that your body needs to produce serotonin.
Starchy foods—sweet potatoes, yams, plantains, brown rice, quinoa, beans, and lentils are high-fiber slow carbs.
Walnuts and flaxseeds—Foods rich in omega-threes (including nuts, seeds, and fish like sardines and salmon) lower inflammation and have been shown to reduce anxiety scores.
Herbal Tea—L-theanine in tea is a stress-relieving compound that binds to GABA receptors, which help the brain calm down. Teas like chamomile, rooibos, peppermint, and more are wonderful afternoon options when you're feeling erratic.
Yogurt—Researchers from Ireland's University College Cork published a study that links a specific kind of bacteria, called Lactobacillus rhamnosus JB-1, to lower levels of stress and anxiety.
Bananas—potassium, an electrolyte that helps the body stay hydrated, is found in bananas. Bananas also contain magnesium, vitamin B6, and other nutrients that help boost production of digestion-enhancing mucous, as well as promote feelings of happiness and calm inside the body. They also aid in the production of serotonin and melatonin, hormones that regulate mood and sleeping patterns.
Beth Shaw is the president and founder of YogaFit Training Systems. The leader in mind-body education, YogaFit has trained more than 200,000 fitness instructors on six continents.
Now Shaw is an internationally known fitness expert and the author of Beth Shaw's YogaFit and the publisher of Angles magazine. Shaw and her company have been showcased in numerous fitness magazines as well as Oprah's O magazine, Time, More, Entrepreneur, Yoga Journal, Glamour, Self and USA Today. She has also been featured on CNBC, CNN, NBC, CBS, E Style, Channel, Showtime, and Donny Deutsch's Big Idea.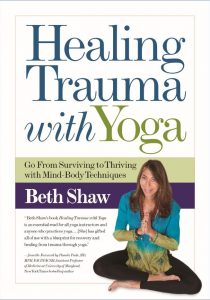 To purchase a copy of Healing Trauma with Yoga: Go from Surviving to Thriving with Mind-body Techniques by Beth Shaw, you can go here. You can also buy one wherever fine books are sold.
Follow Beth on social media:Twitter Beth Shaw  – Twitter YogaFit – Facebook – Instagram
If you are interested in scheduling a book signing or appearance with Beth, please contact Thomas McLean tmclean@cardinalpub.com
To see more of our array of book titles and genres, you can go to our book shop and look around. You just might see something you would like to purchase. If you have any questions, contact us at 317-352-8200.