Listed below are cognitive enhancers to aid in mental performance.
The following is an excerpt from Healing Trauma with Yoga: Go from Surviving to Thriving With Mind-body Techniques by Beth Shaw. Instructions on ordering the book are at the end of this blog.
Food can greatly affect our brain's performance, and so can stress and trauma. If you are working from all angles to enhance your brain function, including your dietary choices, then your mental abilities will become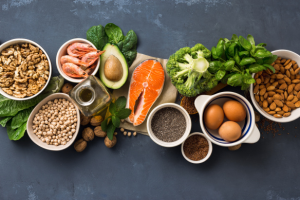 stronger. Foods with omega-three fatty acids, B vitamins, and antioxidants are wonderful components, and with those, your heart and blood vessels will also reap the benefits.
Leafy Greens—Leafy greens such as kale, spinach, and collards are rich in brain-healthy nutrients like vitamin K, lutein, folate, and beta carotene. They also play a strong role in healthy digestion by adding fiber and magnesium to your diet.
Fatty fish—Fatty fish are abundant sources of omega-three fatty acids.
Berries—Flavonoids, the natural plant pigments that give berries their brilliant hues, also help improve memory, research shows. They are also jam-packed with vitamin C, which helps cope with cortisol, a hormone that is released during times of stress.
Walnuts—Nuts are excellent sources of protein and healthy fats, and this type of nut in particular might also improve memory.
Dark chocolate—the antioxidants, protein, and fiber in dark chocolate support a positive mood and healthy cognition. Eat in moderation.
Fruits—Apples, bananas, and oranges are packed with fiber and vitamin C.
Beth Shaw is the president and founder of YogaFit Training Systems. The leader in mind-body education, YogaFit has trained more than 200,000 fitness instructors on six continents.
Now Shaw is an internationally known fitness expert and the author of Beth Shaw's YogaFit and the publisher of Angles magazine. Shaw and her company have been showcased in numerous fitness magazines as well as Oprah's O magazine, Time, More, Entrepreneur, Yoga Journal, Glamour, Self and USA Today. She has also been featured on CNBC, CNN, NBC, CBS, E Style, Channel, Showtime, and Donny Deutsch's Big Idea.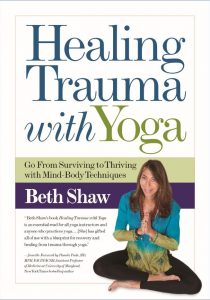 To purchase a copy of Healing Trauma with Yoga: Go from Surviving to Thriving with Mind-body Techniques by Beth Shaw, you can go here. You can also buy one wherever fine books are sold.
Follow Beth on social media: Twitter YogaFit – Facebook – Instagram
If you are interested in scheduling a book signing or appearance with Beth, please contact Thomas McLean tmclean@cardinalpub.com
To see more of our array of book titles and genres, you can go to our book shop and look around. You just might see something you would like to purchase. If you have any questions, contact us at 317-352-8200.
Follow Blue River Press on: Twitter, Facebook, and Pinterest