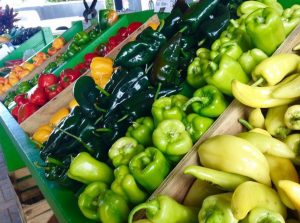 Have you ever wondered how to safely store food and make amazing meals without the use of a refrigerator? Knowledge like this comes in handy especially when camping, boating, traveling, and living off of the grid. This may sound impossible, but Carolyn Shearlock is a renowned sailor with more than a decade of experience sailing and living on the open seas. She has mastered the techniques on how to properly wash, store, treat, and cook food for maximum flavor and sustainability, and she shares her knowledge in Storing Food Without Refrigeration.
"Most of us on boats don't have as much refrigerator space as we'd like, yet we go longer between trips to the grocery store than when living ashore. I was thrilled to share all the tricks I've learned in a lifetime of adventuring for eating well with very limited—or no—refrigeration.  Meats, eggs, cheese, milk, butter, fruits, and veggies are all not just possible, but some actually last better outside the refrigerator." Carolyn Shearlock shared.
In Carolyn's book, Storing Food Without Refrigeration, you will find out valuable information. Did you know:
Buy never-refrigerated vegetables and fruit from a true farmer's market where the produce has been freshly picked.

Green onions are easy to store and the tops will regrow several times.

Adding homegrown sprouts to the top of a salad made from canned goods will add not only crunch but nutrients too.

Many condiments can be stored at room temperature
Find out what you need to know to get the most out of your food without the use of a refrigerator in Storing Food Without Refrigeration. Enjoy the freedom of preparing your meals anytime and anywhere.
Carolyn Shearlock realized that there were two essential ingredients for great trips: sleeping well and eating well. Food didn't have to be fancy, but it shouldn't be a gray blob, either.
Over the years, trips have progressed from weekend Girl Scout camping trips to more rugged adventures on three continents lasting as long as four months.
In 2016 she began a podcast on Boat Radio. Carolyn, her husband Dave and dog Paz now live aboard their second cruising sailboat, Barefoot Gal.
To see more of the books that Blue River Press publishes, you can stop by our Shop and look around. If you have any questions, just contact us here of give us a call at 317-352-8200. One of our representatives will be happy to help you.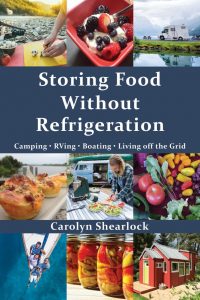 Blue River Press has more than 100 books and e-books in print and is distributed nationally by Cardinal Publishers Group.