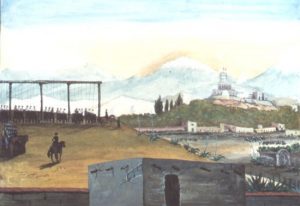 We have heard of the Revolutionary War.  We have heard of the Civil War. There was another war fought between 1846 and 1848. The Mexican-American War. With a deep interest in this war, New York Times bestselling author, James Alexander Thom, began to research it. He then took out his notepad and pen, (yes, he first writes his books in long hand) and developed a story revolving around this war and how it involved the Irish Catholic Americans and the Mexicans who fought. Saint Patrick's Battalion is this story.
Proud and doomed, these rogue Irish gunners fought against those who they once fought side-by-side in order to defend Catholic Mexico against the U.S. Army that was attacking them. They would either hang as turncoats, win the battle, or die trying.
The Mexicans held them as saviors- brave and heroic. Their former comrades viewed them as contemptable traitors.  
In Saint Patrick's Battalion, you will view the war through the eyes of young Paddy Quinn, a camp boy who journaled his experiences of sometimes horrendous army life. This page-turning story reveals the cruel choices men must make during a time of war as Thom shines the light on a side of the Mexican-American War that is often overlooked.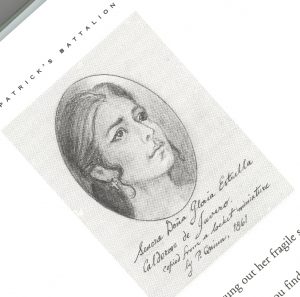 Praise for the hardcover edition of Saint Patrick's Battalion
"A hell of a book…a world-class writer." – Kurt Vonnegut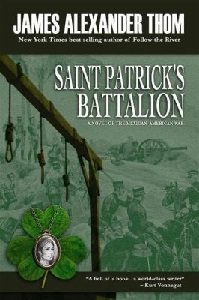 "That awful war (the Mexican War) has never been described so well in fiction or nonfiction." – Howard Zinn, author of A People's History of the United States
"Thom constructs a gripping novel that questions our concepts of war, duty, loyalty, and national identity and draws intriguing parallels to our current conflict in Iraq." – Irish American News
"Thom has taken this forgotten incident from an almost forgotten war and turned it into a stirring tale that does everything that smart historical fiction ought to do: illuminating the past while throwing new light on the present." – Publishers Weekly; starred review
"Thom delivers an artfully crafted meditation on war, nationalism and courage in desperate circumstances." – The Indianapolis STAR
"The two young narrators are vivid and unforgettable, and the war narrative fast-paced. Illumination and compelling, Saint Patrick's Battalion presents a stirring and provocative look at American Manifest Destiny…Highly recommended." – Historical Novels Review
To see more fascinating books from intriguing fiction, to amazing true facts in sports history, to challenging trivia and puzzle books, to our fascinating young readers' All About…Series, look around our books shop. If you have any questions, you can contact us here.
Happy Reading ~ Ginger Bock
Blue River Press released its first book in the spring of 2004.
Our authors, editors and designers always keep the reader in mind when creating and developing the content and designing attractive books that are competitively priced.
 At Blue River Press our mission is to produce, distribute and market books that present the reader with good educational and entertaining information at a value.