Putting much time and effort into an important project whether it is a work of art, a game of sports, or writing that novel you have always dreamed of; one attains a great feeling of achievement and worth when that project is completed. Even more so when the effort is recognized and awarded. Publishing company, Blue River Press, author Claire Caprioli, and illustrator Moriah McReynolds recently experienced that feeling of accomplishment when Independent Book Publishers Association announced that All About Marie Curie won Gold in the YOUNG READER: NONFICTION (8-12 YEARS) category. Congratulations to Blue River Press, Claire Caprioli, and Moriah McReynolds.
Madame Marie Curie, a remarkable woman
In the late 1800's Warsaw, Poland was under the rule of the Russian Czar. Though Maria was a proud Polish girl, she had no country to call her own. At that time, Poland didn't exist, and life was a difficult for the Polish people. Children were not given the same chance as their classmates in school, they were handed lower grades, and women could not get a higher education. They were not permitted to speak their native language either. That, however, did not stop Maria Sklodowska. She completed high school at the young age of fifteen with the highest honors and a gold medal. Then behind the scenes, she was secretly hired to teach farmer's children the Polish language. Today, Maria Sklodowska is better known as Madame Marie Curie.
Madame Curie was the first woman to be awarded a Nobel Prize when she received the Nobel Prize in Physics, but she stunned everyone further when she was awarded the Nobel Prize in Chemistry. This made her the first person to ever win two Nobel Prizes!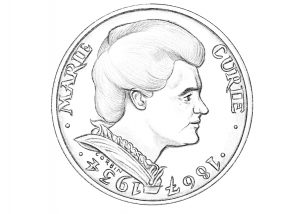 Young readers will dive into and learn the fascinating life of this remarkable and inspiring woman in All About Marie Curie.
IBPA Benjamin Franklin Award
It is always an honor when one of the Blue River Press titles is recognized by this award. We are appreciative and grateful for this.
This award recognizes "excellence and innovation in independent publishing. Unlike many other awards contests, the IBPA Benjamin Franklin Awards demand both editorial and design excellence."
The All About…Series
Three years and four months after the launch of the All About… series books on November fifteenth 2016, Accelerated Reader released AR Quiz No. 508797 for All About Amelia Earhart. That book has gone on to gain 3.5 out of 4 stars for reader reviews. Since March of this year, AR has released quizzes on all but two of the titles.
More On the All About…Series
Each title is written by proven authors who are experts in their field. Students can earn 2 points on Accelerated Reader. It features illustrations, index, glossary, bibliography, recommended reading, and quotes.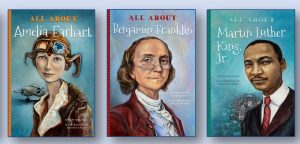 The award-winning All About…Series is designed for readers in grades 4th-8th and their parents, teachers, and librarians to enjoy. A team of authors, illustrators, designers, marketers, and editors are committed to developing educational in addition to entertaining books. From people to places the All About…Series for young readers will help them understand better the lives of the world's greatest explorers, innovators, scientists, personalities, and places that make a mark in this world. Teacher's guides are available here.
You can see more of our All Abouts… here. You can receive downloadable Teachers Guides at this location. If you have any questions, please contact us or give us a call at 317-352-8200.
Blue River Press has more than 100 books and e-books in print and is distributed nationally by Cardinal Publishers Group.
Happy Reading!