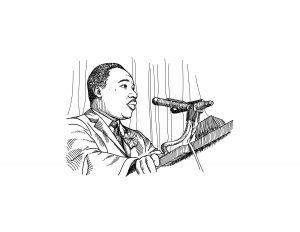 Born on January 15, 1929 in Atlanta, Georgia, to Martin Luther King and Alberta Williams King, Martin Luther King, Jr. would grow to be one of America's greatest influencers. Dr. King lived a full and purposed life. Though he faced many challenges, he blazed a trail for civil rights.
As a Young Man
He attended the first African-American public high school in Atlanta, Booker T. Washington High School. As a top student, he was able to skip his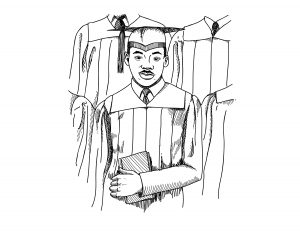 freshman and senior years and entered his college education at the tender age of 15. While still in college, he was ordained a Baptist minister then graduated from Moorehead College in 1948, and he continued to preach powerful, inspiring sermons. He desired to follow in his father's footsteps and become a pastor, so he enrolled in Crozer Theological Seminary.
When he met Coretta Scott, he knew right away she was the one for him. They were married and lived in Boston while he finished his Ph.D at Boston University. There he saw black and white people living and working together more freely.
Influenced by Jesus, Gandhi, and Thoreau
As he was greatly motivated by Jesus, he was also influenced by Mohandas Gandhi and Henry David Thoreau. Through Gandhi's demonstration of peaceful protesting, he saw that it was possible to cause the changes he wanted to see without violence. If people came together, America would change.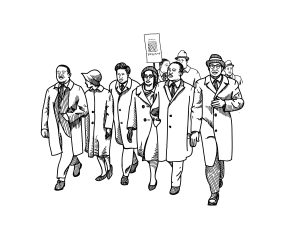 Marches
He led peaceful protests and marches for racial equality. One of the most noted marches was Selma, Alabama to Montgomery, Alabama. Thousands both black and white traveled to Selma to participate in the march.  Tension was high and protesters were attacked by state troopers with tear gas and night sticks, but they marched on. As they proceeded toward Montgomery, they came upon a bridge and faced a wall of state troopers. Dr. King led the way and could clearly see that if they moved forward, they would surely meet with violence and resistance, so he encouraged them to turn back and try again later. In the meantime, the number of participators grew, and President Johnson stepped in to help the march do well. The 54-mile march from Selma to Montgomery took 5 days. With nearly 25,000 marchers, they were able to successfully hand the petition for equal voting rights to Governor George Wallace.
An Appointed Leader
Because of his leadership and encouragement many freedoms were gained for African-Americans. The Civil Rights Movement grew, and people listened to the powerful words of Dr. Martin Luther King, Jr. He and Coretta led marches against poverty, he met with President Kennedy, and he was elected into the fellowship of American Academy of Arts and Sciences. He was a hero and changed the lives of many Americans.
Young Readers
Young readers can learn all about Dr. King in the book All About Martin Luther King, Jr. by Todd Outcalt.  They will read details about his life's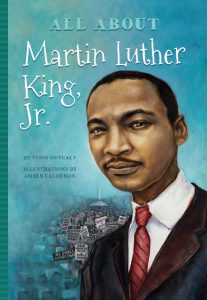 achievements, and how he overcame the obstacles that were ever before him. Illustrations and timelines are also included to enrich their knowledge of this great icon of the 20th century.  
For the Teachers
Teachers Guides are included. You can click on Martin Luther King, Jr.'s cover and receive the guide for educational materials.
More All Abouts…
The content of this blog was taken from All About Martin Luther King, Jr by Todd Outcalt and was compiled by Ginger Bock.
From sports legends to government leaders, Blue River Press has All Abouts… that will educate young readers about important people and places. Browse our Shop for more amazing titles that Blue River Press publishes. Contact us here or give us a call at 317-352-8200 for more information.  Blue River Press books are distributed by Cardinal Publishers Group.
Happy Reading